What offers the module "Printing templates"?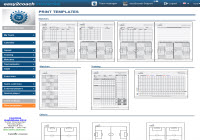 easy2coach offers perfect print templates for matches, training days and other team situations. In order to get to the printing templates in easy2coach, just do the following:
Click the module entry "Teams and Exercises".
Click the left module entry "Printing Templates" in order to get a listing of templates in the right part of your window.
Just select any template by clicking on it. The template will open up in a new browser window as a PDF file.
You can now print or save your template file.